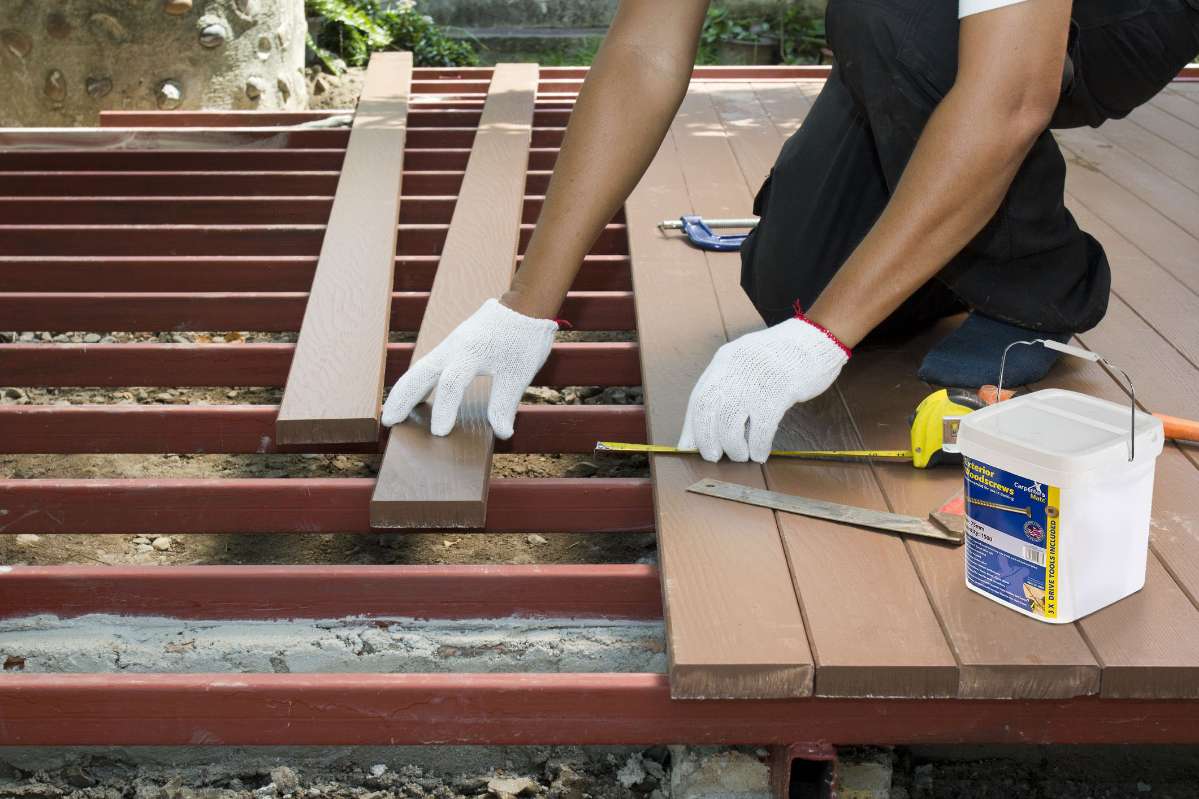 Considering tackling a bit of decking? Whether you're in the market for something relatively simple, or have visions of a grand entertaining space, preparation is absolutely everything!
Before you dive into the 'doing' though, you'll need to make sure you've covered the basics. That means working out whether there are any permits you need to apply for, as well as checking for underground pipes, cables and wires.
Ticked those off your list?
It's time to get planning.
First up, what size and shape will work well in the space you have to work with, and complement the existing look and feel.
Think carefully about what you want the deck to achieve. It sounds silly, but it's important to understand how you want to use the space before you do a single thing. Are you hoping to add an entertaining area, or a dining space, cook, sunbathe, or something else?
What functional space do you actually need – not just to place furniture on, but to pull out chairs and walk around them?
How will you access the deck, and does that make sense in terms of the general flow of your home and outdoor space?
What is the climate like? Will you need shade? Or is it a cool or windy spot? Now's the time to plan a design that plays to your environmental strengths and mitigates challenges.
What do you need to do to the existing space to prepare it? Does the ground need levelled, will you need to remove any trees (if permitted) or other shrubbery?
Once you've answered these questions, there are a few key tips that could make your decking experience a whole lot easier.
Choose the right materials
The materials you use typically come down to a few considerations, including personal preference, availability, cost, and what works best with your particular design. Safety and longevity are paramount, so you'll need to select something that meets your usage expectations, is long-lasting and resistant to all the usual suspects – moisture, rot and insects.
You usually have a choice between various hardwoods, pressure-treated woods with chemical preservatives or composites – a mix of plastic and wood fibres.
Get the right kit
You don't need to go wild with tool buying – if you're feeling up to tackling a deck, most of the things you need are probably already in your shed. But with the right kit behind you, a project like this can be made much simpler. You'll want a:
• Shovel
• Circular saw
• Tape measure
• Line marker
• Level
• T-square
• And, of course, Carpenters Mate's self-drilling decking screws.
Measure, measure, measure
Write down all the dimensions of your planned deck and draw up a basic plan to keep your calculations on track. Measure and mark out the perimeter of your deck, taking account of the planned height of your decking and joists. After that, you can run string lines at this height around the perimeter of the area. Ensure it's square by creating a right angle with the string lines, then mark at each intersecting point where your stumps need to go.
The 'doing' of decking
There's a lot of hard work ahead, but here's an overview of what you can expect:
You'll need to dig holes for your posts, joining the bearers and then either concreting in your posts, using pre-cast pier blocks or similar. Footings are usually twice the size of the post they support and, generally speaking, extend below the frost line. It can be a slow process but it's vital, because safety begins with a strong foundation!
You'll need to make sure the posts are correctly located, so that you maintain that all-important squareness.
You might also want to take steps to prevent weeds popping up from under your beautiful new deck – for example by using weed matting topped with gravel, bark or the like.
Then you'll need to fix your joists at regular intervals across your bearers, according to the requirements of the deck covering and according to your local building regulations.
After that, it's time to cut your decking to size and secure in place. Given these are the most visible aspects of your deck, take your time and get it right. Remember to leave latitude for movement during seasoning and, OF COURSE, use only Carpenters Mate's screws for a sleek, robust and weatherproof finish.
Treat your decking planks (if necessary) with a protective coating, to ensure it lasts the distance.
Sit back and start enjoying the fruits of your labours!
Ultimately, any project of this scale is going to require a fair bit of work, so you'll want to know that it's up to spec, looks great and will stand the test of time. Always prioritise planning, and then bring a Carpenters Mate on board for the perfect finish!
Check out our decking range today – https://www.oscsales.co.uk/carpenters-mate/deck-screws