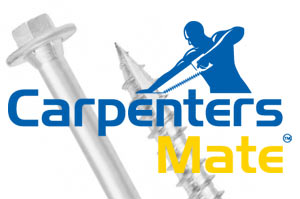 Carpenters Mate understands the demands and requirements that different projects present. That is why our range of self-drilling screws and accessories has been specifically designed to improve speed and efficiency in all areas of the trade.
Inefficient methods and practices can soon add up to hours of wasted time, but the Carpenters Mate products aim to maximise the efficiency and quality of your work. Our range of self-drilling fasteners provides an invaluable addition to any carpenters toolkit as they eliminate the need for messy and time-consuming pre-drilling.
Whether the project is interior or exterior, Carpenters Mate has the type of self-drilling screws you need. All our screws come with the correct sized drive tool, so no matter what projects you undertake, you can rest assured we have the appropriate carpenters screws and accessories for the job.
Using fasteners that are not suitable for their environment will inevitably undermine even the highest quality construction and can often present a safety risk. Our 316-grade stainless steel finishing deck screws are an example of a screw designed for a specific task and environment. These robust and long lasting screws are designed for outdoor decking that can be exposed to weathering and even corrosive sea air. With these precision engineered screws, decking construction becomes quicker and easier with no pre-drilling required.
Carpenters Mate bugle head deck screws come in a range of colours to match the colour of the deck boards, so you are left with a sleek, strong and secure wooden deck. The 316-grade stainless steel screws are just part of the wide range of fasteners and accessories we stock to make every job easier and faster.
Carpenters Mate is continually striving to create products that will improve the quality, speed and efficiency of carpentry. Whether working on a loft conversion, wooden deck or any other timber based project, Carpenters Mate self-drilling screws and accessories can save you time and money.