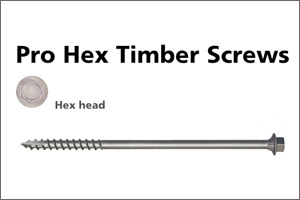 Carpenters Mate equips carpenters and tradesmen with a complete range of self-drilling screws, fasteners and accessories for both indoor and exterior timber projects.
Within the Carpenters Mate timber fasteners range are the Pro Hex self-drilling wood screws. As you would expect from Carpenters Mate, the Pro Hex timber screws are of a superior quality and designed to take on the most corrosive and abrasive of environments.
The Pro Hex timber screws are made from carbon steel so can be used both inside and out. This specific range of Hex Head wood screws are designed to specific lengths to take into account UK timber sizes. The wide washer head ensures increased holding power, making the Pro Hex self-drilling screw the new 'all in one' heavy duty fastener.
The Pro Hex screws are incredibly hard-wearing, able to withstand tough weather conditions, environments and as such are guaranteed corrosion resistant.
Other features include being 'self-drilling' so no pre-drilling is required and the countersink head also ensures that the finish is flush to the surface.
The Carpenters Mate Pro Hex timber screws are specially designed with timber to timber application in mind and each pack of screws comes with a 8mm Hex Head drive tool.
Working on a loft conversion?
If you are working on a loft conversion then the Pro Hex self-drilling screws are without question, the best 'man' for the job.
We have touched on the many virtues of the timber screws above, but if you need any more convincing then take a look at Calcumate.
Calcumate is an online tool that calculates the number of Pro Hex screws needs for a loft conversion and the spacing needed in-between each screw for optimum strength.