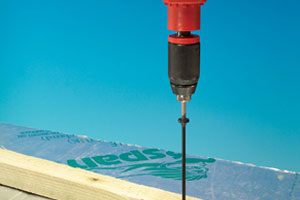 OSC Carpenters Mate are Fully Compliant with New EU Construction Products Regulation
As one of the UK's leading suppliers of fasteners and wood connectors, OSC are pleased to announce that their Carpenters Mate range of self-drilling screws they are fully compliant with the new EU Construction Products Regulation.
July 1st, 2013 marked a change in the EU Construction Product regulations which will have a considerable impact on business and individuals working in the construction industry.
Any products that are to be sold in the European Economic Area and are covered by a harmonised European Standard and entered into the market after July 1st, 2013 are required to have a CE mark with the accompanying documents to confirm the performance.
Keen to ensure that they are ready for the new regulation, OSC has been proactive in replacing the European Construction Products Directive. The new regulation plans to unify the technical assessment of construction products across Europe. The new regulations provide a greater sense of reliability to the consumer and OSC welcomes the changes.
OSC has always worked hard to provide high-quality coach and wood screws and OSC have reacted quickly to ensure that all product ranges are compliant and that customers can still expect the same high standards. Any OSC customers wishing to discuss these changes further are invited to contact OSC and staff would be happy to explain the changes in more detail and which products are most suited to their requirements.
OSC is committed to providing their customers with high-quality products at affordable prices and the outstanding customer service as they always have and as a result, thoroughly welcome the new regulations.
Further Related Reading: