Stainless Steel Fasteners for Coastal Structures
Coastal properties can provide some of the most stunning views and surroundings a homeowner could wish for, therefore it's no mystery why these kinds of properties are always in high demand.
When it comes to the construction or maintenance of coastal properties, any reputable contractor will have to consider the corrosive environment that a seaside home will have to withstand. From ensuring any wooden panelling has been correctly treated, through to using the appropriate fittings and fixings for exterior lighting; all areas of the house exposed to harsh weather and salt air need to be considered.
With all this specialist care and attention given to a coastal property it is vital to also select the appropriate screws, as without these, many of the efforts made to provide the property with a long working life will be undermined. The Carpenters Mate range of self-drilling screws and fasteners have been proven to stand the test of time and are resistant to the most inhospitable environments, including the harsh weather and salt air endured by seaside properties.
Wooden structures and decking often create a beautiful home that blends in well to a coastal landscape, however, these properties require a great deal of care and attention when selecting the appropriate materials to construct a seaside home. The timber must be durable and rot resistant; however, some contractors may overlook the fact that rot-resistant timbers such as cedar can actually have a corrosive effect on fastenings, even galvanised screws and nails. This type of occurrence highlights the importance of selecting the right kind of fastenings for your property, in order to avoid undermining the lifespan of an otherwise well-developed coastal home.
The Carpenters Mate range of specially engineered stainless steel wood screws and fasteners includes hex-head screws, which have been designed especially for the type of corrosive and harsh environment a coastal property has to withstand. Carpenters Mate also provides specially designed composite deck screws with coloured heads to provide the perfect fastening for composite decks that are made to last. All screws come with the necessary drive tools for quick and effective installation. Additional drive tools are now also available as a backup, as well as new pre-drilling and countersinking tools to be used with decking and woodwork, to provide properties with the cleanest and sleekest finish yet.
The Carpenters Mate range of screws and fasteners have been designed for strength and durability; inland or by the coast, constructing a home or building a deck, our products and accessories will provide quality and assurance whatever the weather.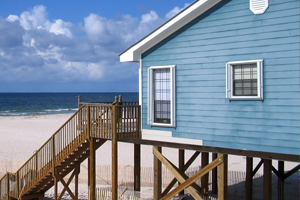 Further related reading: