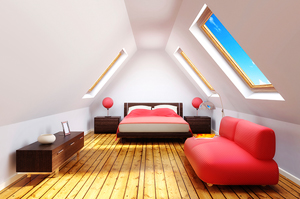 For around 30 years loft conversions have been one of the most popular choices of home improvement. It is not difficult to see why; loft conversions have been so appealing because this type of project can be completed relatively quickly and when finished can add value and space to a property.
A loft conversion can increase the value of a house by up to 20%*, and any project that can transform a 2 bedroom terrace house, into a 4 bedroom family home is always going to have huge appeal. However, more recently the ever popular loft conversion appears to have lost some of its charms, instead of being an exciting new addition to a home, a lack of creativity has made some loft conversions feel a little humdrum. When beige is one of the most popular colour choices for a conversion, you know it is time for a change.
That change now appears to be well underway. If homeowners can afford to spend a little extra money, there is no longer any need to settle for standard roof lights, when instead you can immerse the whole room in natural light with folding glass panels that open up the entire side of the house. Folding glass panels are just one of many new bespoke options now available – the loft can now become the lightest and spacious room in the house.
A property in Clapham, London recently had its loft space converted into a fully functioning, sound-proof, recording studio, complete with pull out beds for when musicians are too tired to go home after late night recordings. This kind of project highlights just how much potential and scope the loft conversion still has for all different types homeowner.
Unless your home is listed, there is a good chance you will be able to elevate both the front and back of the house. This elevation will create a new flat roof space that also has all kinds of potential, and it no longer presents the kind of water leakage problems it once did; flat roofs now come with long guarantees so you can have peace of mind your home is well protected. Options go beyond simple Asphalt now too; some conversions now use sedum rooftops to create a habitat for bees and butterflies.
There are now so many choices for the modern homeowner, yet all conversions now also benefit from some shared features – for example, all modern lofts must now meet new insulation requirements which generally improve a home's energy efficiency and keep the space cooler in the summer and warmer in the winter.
With so many new options and so much potential, there has never been a better time to create a bespoke loft conversion and transform your home.
Thinking about a loft conversion? With CalcuMate, we can help you to accurately plan your loft conversion and how many of the Carpenters Mate Self Drilling screws you will need to complete the job.
*SOURCE: The Telegraph http://www.telegraph.co.uk/lifestyle/interiors/renovating/10061490/Loft-conversions-meet-the-new-generation.html