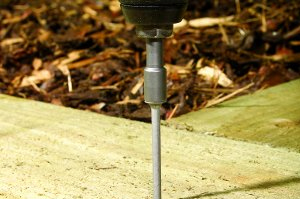 Timber Connectors
Choosing the right timber connector is not always a straightforward decision, but whether you are a master carpenter or you are just starting out on your first DIY project, you need to select wood fasteners that are going to do the job and do it right.
At OSC we take a huge amount of pride in the quality of our workmanship and every single Carpenters Mate timber connector is designed and manufactured not only in accordance with the strictest guidelines and regulations but with what we know our customers need from a versatile timber screw.
What timber connectors should I use?
Heavy duty wood fasteners for heavy duty jobs
If you are looking for timber connectors that need to stand up to heavy loads our FastenMaster range of self-drilling wood screws is a versatile collection of heavy duty wood fasteners, suited to take on the toughest of timber challenges; from industrial construction projects to large DIY jobs, these wood fasteners will ensure your wood-to-wood build is rock solid giving you piece of mind when you need it most.
Complex carpentry made simple
When you're involved in a complex project that requires sizing and swapping drill bits, wouldn't it be simpler if you had a product that removed all the frustration of trying to find the right drill bit for the right wood fastener? The Carpenters Mate range of self-drilling timber screws are precision-engineered for timber fastening and come packaged with the right drive tools so you're never scrabbling around for the right screwdriver.
We're particularly proud of our Pro Hex Timber Screws, designed for multiple wood-to-wood application, which not only has a full range of lengths to accommodate the UK's timber sizing, but is guaranteed corrosion free. Perfect for building projects in coastal locations requiring timber screws that will resist salt water and maintain your buildings integrity.
Now you see it now you don't
Whether you are laying decking or working on other similar wooden constructions, you need wood fasteners that will enhance your project rather than hinder it. The CAMO range is an ingenious hidden decking fastening system that will ensure your decking projects are millimetre-perfect and perfectly spaced and aligned. These perfectly engineered timber screws deliver flawless, blemish-free and totally secure decking with no visible screw heads. So no more pre-drilling, no more split deck boards, no endless measuring and no more fuss!
If you have a project and need timber connectors that will stand up to the demands of the job, get in touch with us today or find your nearest distributor.
Further related reading: