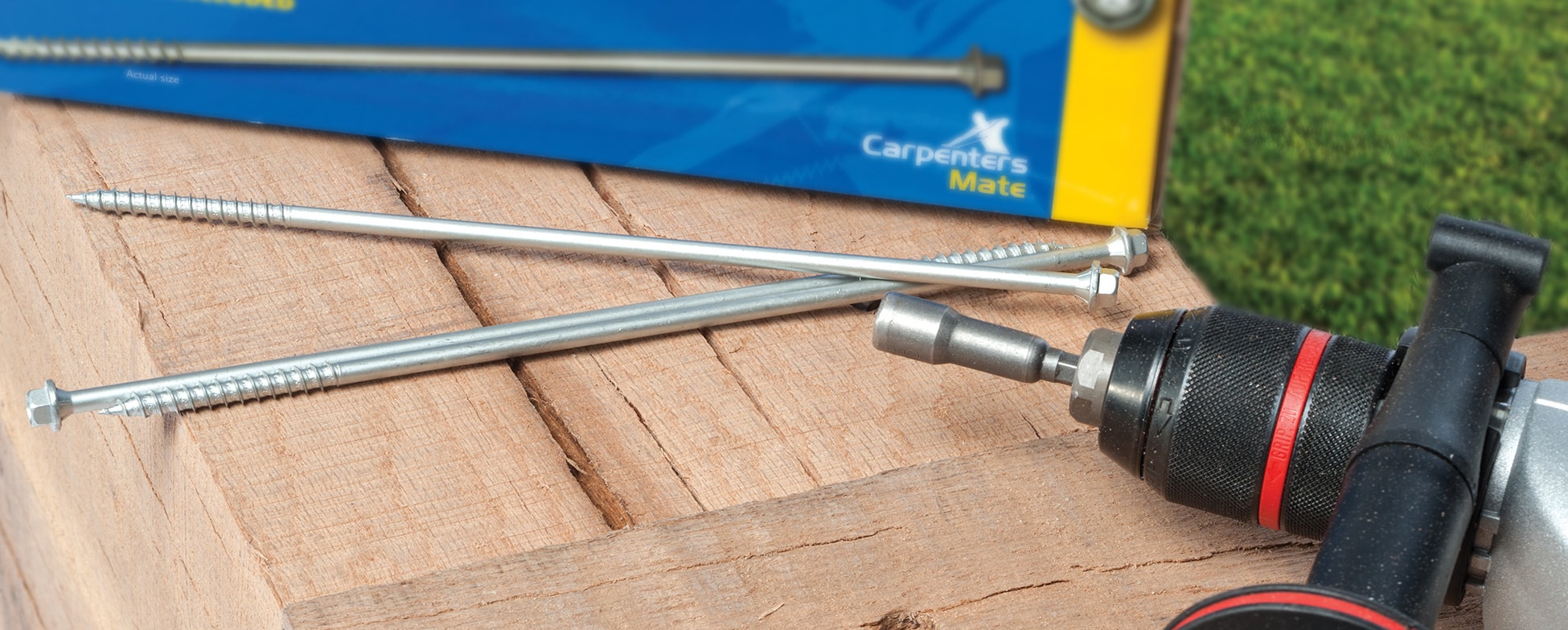 What are self-drilling screws?
From domestic use through to large industrial projects, carpenters require tools that will aid their speed and efficiency. However, too many tools can also prove to be a problem; swapping over drill bits or drive tools can become a fiddly task that slows progress and adds costly additional time to projects. Carpenters Mate precision-engineered self-drilling screws come with their own correct drive tool, ensuring you'll never have to waste time searching for, and swapping drill bits. When time is of the essence let Carpenters Mate self-drilling screws and accompanying drive tool help you complete the job with more efficiency and less fuss.
Our self-drilling screws and fastener range have been specifically designed to meet all requirements of tradesmen looking to produce professional quality woodworking at an affordable price. We understand that carpenters often undertake a variety of projects each with their own specifications and requirements – this variation is reflected in our extensive range of self-drilling screws and self-drilling fasteners. Tough environments require tough structures; our stainless steel Hex Head screws are heavy duty screws designed to last. These screws will ensure any structure will be frim, secure and able to withstand hostile environments for years to come, without the risk of weathering; the perfect solution for properties such as coastal homes which have to withstand corrosive sea air.
Our exterior self-drilling wood screws are specifically designed for outdoor wood to wood connections. As with the entire Carpenters Mate range, these self-drilling screws have been designed to best suit their purpose, and that is why they are coloured to match pressure treated timber they're used with. Not only do we consider the necessary aesthetics required, but also the function and performance of all our screws. These fasteners are perfectly suited for use with wooden decking since they are corrosion resistant and able to withstand whatever conditions they are exposed to. The self-countersinking head style and anti-corrosion finish will provide a clean, smooth and professional finish for any decking, and will be sure to last for years to come.
For when you require a screw with extra strength and security, the Heavy Duty Timber Pro Hex Screws are the perfect option – these self-drilling screws require no pre-drilling for a quicker and cleaner application. This heavy-duty fastener is available in lengths to accommodate UK timber sizing, and with a wide washer head built in for adding holding power, you can be sure that no matter what the requirement, they will be up to the job!
View our full range of bespoke self-drilling screws and accessories.
Further related reading: