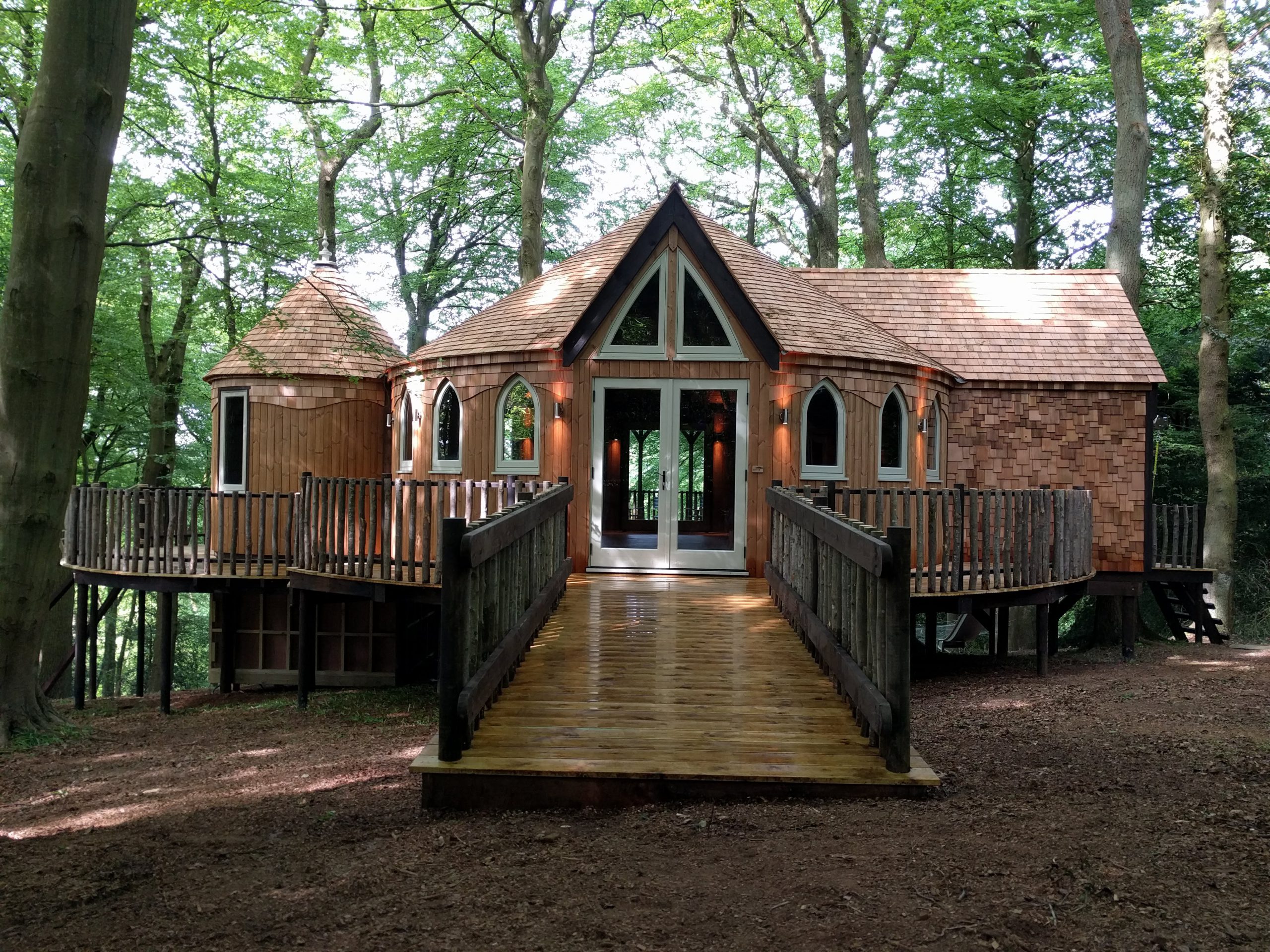 For those of you not familiar with High Life Treehouses they have been building treehouses, hobbit holes, commercial spaces and playgrounds since 2003. They are pretty much the 'high life' of treehousing! Every treehouse is bespoke, as no two trees are the same. You can guarantee that each treehouse will be one of a kind.
Henry Durham the Director of High Life Treehouses answers a few questions about his company's roots and how Carpenters Mate fits into their projects.
How did High Life Treehouses first start?
I was unemployed and just started building climbing frames with swing units, the same sort of thing you see in peoples gardens. It was mainly in and around London. It really just went from there. I started off pretty small with £500 swing units and now we are building £10,000 treehouses!
What's your favourite part about building the treehouses/hobbit holes etc?
That's really easy – it's the last day – that final moment after you have struggled through a big project and you've packed and cleared up the entire site. Everything is loaded in the van, you go back for that final look at what you've built and see it standing there in all its glory. Often the clients are there with their kids too, who they've obviously kept away during the construction. You give the kids a little nod and they go running in – you hear them screaming on the veranda with delight as they use it for the first time.
Approximately how long would the typical sized treehouse take to construct?
Probably about 5 weeks for the average one. We do roughly half of the work in the workshop and then the other half on site. Some are absolutely huge and can take up to 3 months although some of the little ones only take about 2 weeks.
What was your main influence/reason to start this up?
When I was a kid my parents' hobby was to buy rundown houses, do them up and sell them. So almost every year we moved house and I would get another garden to make dens in. By the time I had finished my perfect den, they would sell the house and find another one which was great really as I always had a new project and so did they.
Why did you choose Carpenters Mate?
They are a good quality structural screw. We use lots of them – they are just so quick and efficient to use. They are brilliant for joists, stud work and rafters. They do everything that we pretty much need them to do and they are the backbone of our treehouse building.
What is your favourite Carpenters Mate product?
I like the size of them so if you have a bit of 4×2 which are usually planed down to about 45mm each, the 90mm screw is absolutely perfect. Other brands can be slightly annoying being 100mm and 150mm long, so unfortunately quite often you have them poking out the timber. Where as the Carpenters Mate 90mm and 140mm screws are absolutely brilliant. They are just the right size for planed timber. We are using the 90mm and the 140mm hex heads primarily.
Your distributor is Beaumont Forest in High Wycombe, correct? How long have you been their customer?
Yeap that's absolutely correct. For about 10 years – we know them well.
Many thanks to Henry for giving us an insight into High Life Treehouses. If you would like to check out what they do in more detail, check out their website here: High life Treehouses