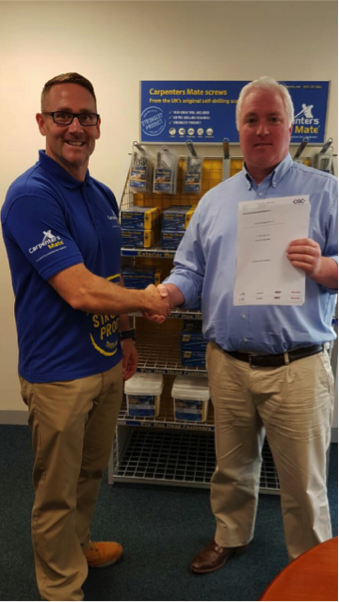 OSC Sales Area Manager, Clinton, sponsored by Carpenters Mate for his love of Triathlons
Carpenters Mate proudly sponsors OSC Sales Area Sales Manager (East), Clinton, in his triathlon tour of 2018. Kitted out in Carpenters Mate cycling gear, Clinton has already completed the long distance triathlon training camp based at Club La Santa in Lanzarote in February and the Monster Duathlon at the beginning of March. Clinton has his sights set on completing at least one triathlon a month throughout 2018. The Club La Santa training camp is an international hub for triathletes of all levels looking to prepare for their next challenge. Club La Santa organises year-round triathlon events, tri-training events and is well-known for its annual Club La Santa Ironman.
The training camp prepares Clinton for his upcoming 11 triathlon challenges. "We are delighted to be sponsoring Clinton throughout his triathlons and will continue to do so in 2018 and wish him all the best of luck in representing our premium brand on the racetrack." Glen Dunn. MD of OSC sales.
You can see Clinton at many other triathlons and sporting challenges across the globe in coming months, including:
| | |
| --- | --- |
| Event | Date |
| Nice Tri – British Duathlon Championships | 25th March 2018 |
| St Eds Tri – the Green & Greene Triathlon Festival | 29th April 2018 |
| Nice Tri – St.Neots Standard Triathlon | 13th May 2018 |
| Nice Tri – Grafman Middle Distance Triathlon | 20th May 2018 |
| Culford Triathlon | 3rd June 2018 |
| Fritton Triathlon | 16th – 17th June 2018 |
| Nice Tri Series (Olympic Distance) | August 2018 |
| Eaton Dorney (Olympic Distance) Triathlon | 13th of August |
| Mildenhall Sprint. | 28th August 2018 |
| The Vitruvian Triathlon | 8th September 2018 |
| HaverTri Triathlon Festival | 7th October 2018 |